An English teacher once told me I work well under pressure. What a mistake that was! This newsletter was part of our latest mailer and on the day we printed that beauty, there I sat, typing away with a 5:30 pm deadline. I guess it's a good thing I know a bit about the subject of this mailing's letter: love. President Biden's announcement that everyone will be allowed a vaccination appointment by May 1st was like having a huge weight lifted off my shoulders. I guess I just didn't realize how much the COVID-19 restrictions were wearing on me until I heard that news. I didn't realize how much I miss seeing the smiling, unmasked faces of my co-workers every day, or enjoying an impromptu shopping trip with a friend that gives us a couple of hours in the car together with constant chatter and laughter. Knowing that I'll be able to hug my friends and family members again has breathed new life into my heart!! Summer is coming and we're finally going to be able to be together. We can have summer picnics with friends, neighborhood block parties, gatherings at the lake, Father's Day barbecues, Fourth of July celebrations, and weddings! Doesn't that sounds AMAZING?! If there's anything this pandemic has taught us, it's how lucky we are to have good people in our lives. Let's take advantage of this reminder and show these people how much we love them and gift them a puzzle that says "I love YOU".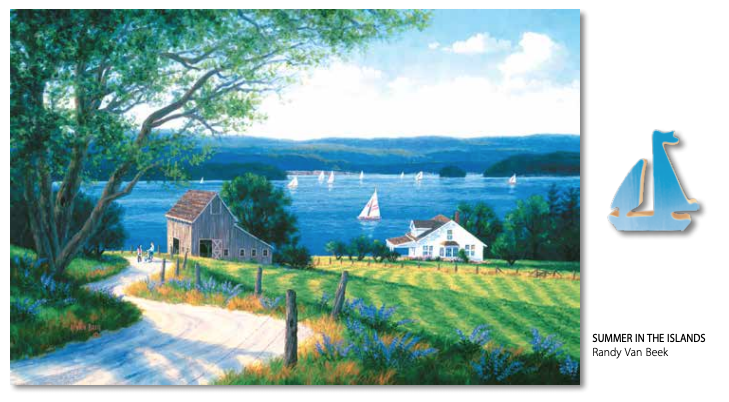 Dad deserves a little something special this year, don't you think? Take a look at our
Father's Day puzzles
and find the one that reminds you of the special dad in your life. It could be your father who invested years of his life in raising you to be the incredible person you are today, or it could be your husband who is an amazing dad to your children. Maybe it's your son or son-in-law who has given you one of the greatest gifts in your life—a grandchild. Next, make a list of all the things that make this dad so special and have given you such great memories to share. Then, let us bring those stories to life within a puzzle. If it's the story he tells you repeatedly about his walk to school as a young boy—uphill both ways in the snow, then we can cut silhouettes of a young boy bundled up, trudging along with his bookbag and snowflakes swirling around his head into the puzzle. Maybe you have the memory of your husband rocking your newborn to sleep night after night during those rough few weeks when nothing else seemed to work. If that's the case, we'll craft puzzle pieces of a man sitting in a rocking chair, holding that snuggly baby. Maybe you've recently been blessed with grandchildren? We can cut something special for that into the puzzle too! Whether it's Grandma reading books or Grandpa playing ball—we have you covered!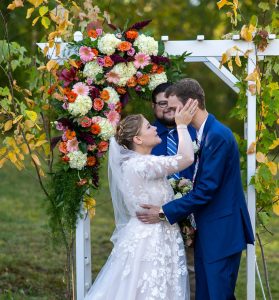 My daughter was lucky enough to have her wedding before the Covid nightmare began. Her special day was just about perfect but there are so many brides and grooms out there who have had to postpone and reschedule their wedding day, possibly several times by now. Let us turn this situation into something positive. Find just the right puzzle image and let us work our magic. These are all things that will help share the love now, after one of the toughest years some of us have ever experienced, and for many years to come as puzzles are meant to be enjoyed again and again!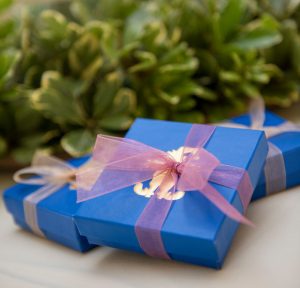 Talking about my beautiful daughter and son-in-law's wedding day reminded me to tell you about the special wedding favors we had—Stave Puzzles!
Puzzle favors are fun
, unique, and so special. Kyle, the groom, has taken some amazing photographs, so I chose one that represented the town where he grew up and where the wedding was held, and asked our amazing Graphics team at Stave to work their magic. They gave the picture a fun oval shape, added the text, and voila—we had the wedding favor! The guests were enchanted. Now it's your turn. Go ahead and share the love and help this world go 'round!! Let's spread the love and make this world a better place.
Cheers,
Jennifer