---
There are two ways to earn Stave Loyalty Points
Reward Points: You instantly receive Reward Points with every purchase, it's that easy! You'll earn one point for every $50 you spend (excluding taxes and shipping).
Prize Points: You also have the opportunity to earn Prize Points for every puzzle purchased, but you'll have to work for them. Please reference the notecard included with your puzzle for additional information.
Each point earned is the equivalent to one dollar and can be used on a future purchase or for a cache of swanky Stave items. After they're earned, you'll have six months to use them. Rest assured, we'll send you a friendly reminder before your points expire.
---
Here's how to redeem your points
Your Reward Points and Prize Points are combined and shown in your Stave account as one balance. Loyalty Points will be available for use during checkout or can be redeemed over the phone. They are updated the next business day following your order.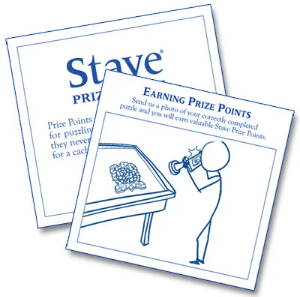 Shop Puzzles


One Loyalty Point = One Dollar
Use your points through our online store or give us a call at 802-295-5200
Featured Stave Boutique Items


One Point = One Dollar
Use your points through our online store or give us a call at 802-295-5200