Grab a seat at the puzzle table and get comfortable as you peruse
our coverage "pieces", video clips, and press releases!
Media and influencer inquiries, please contact:
Briana Paronto, Communications Coordinator
Bri@Stave.com
802-295-5200
Handcrafting the World's Finest Wooden Jigsaw Puzzles Since 1974
If you're looking for the most ingenious, elegantly tricky, and beautifully handmade custom wooden jigsaw puzzles in the world… you have found them. Each wooden jigsaw puzzle is meticulously hand-cut, one piece at a time, by a skilled crafter. No computers, no high-tech (or lasers). One saw, one cutter — that's it. Using lots of imagination and a little bit of magic, we handcraft each wooden puzzle - piece by piece - so unique that each puzzle is an original work of art. There's no other puzzle in the world quite like a Stave and there's no other experience like solving one. The fun isn't just what's inside the box — it's everything about Stave.
Business management guru Tom Peters named Stave Puzzles "Product of the Year" in 1991, saying, "The folks at Stave Puzzles represent a class of unsung companies that do things right—deliver superior service, on time, in a way that satisfies and even delights customers." Here what some other notables have said about us:
1991 Product of the Year | Tom Peters
"The high-end, mind-warping jigsaw puzzles from Norwich, Vermont's Stave Puzzles."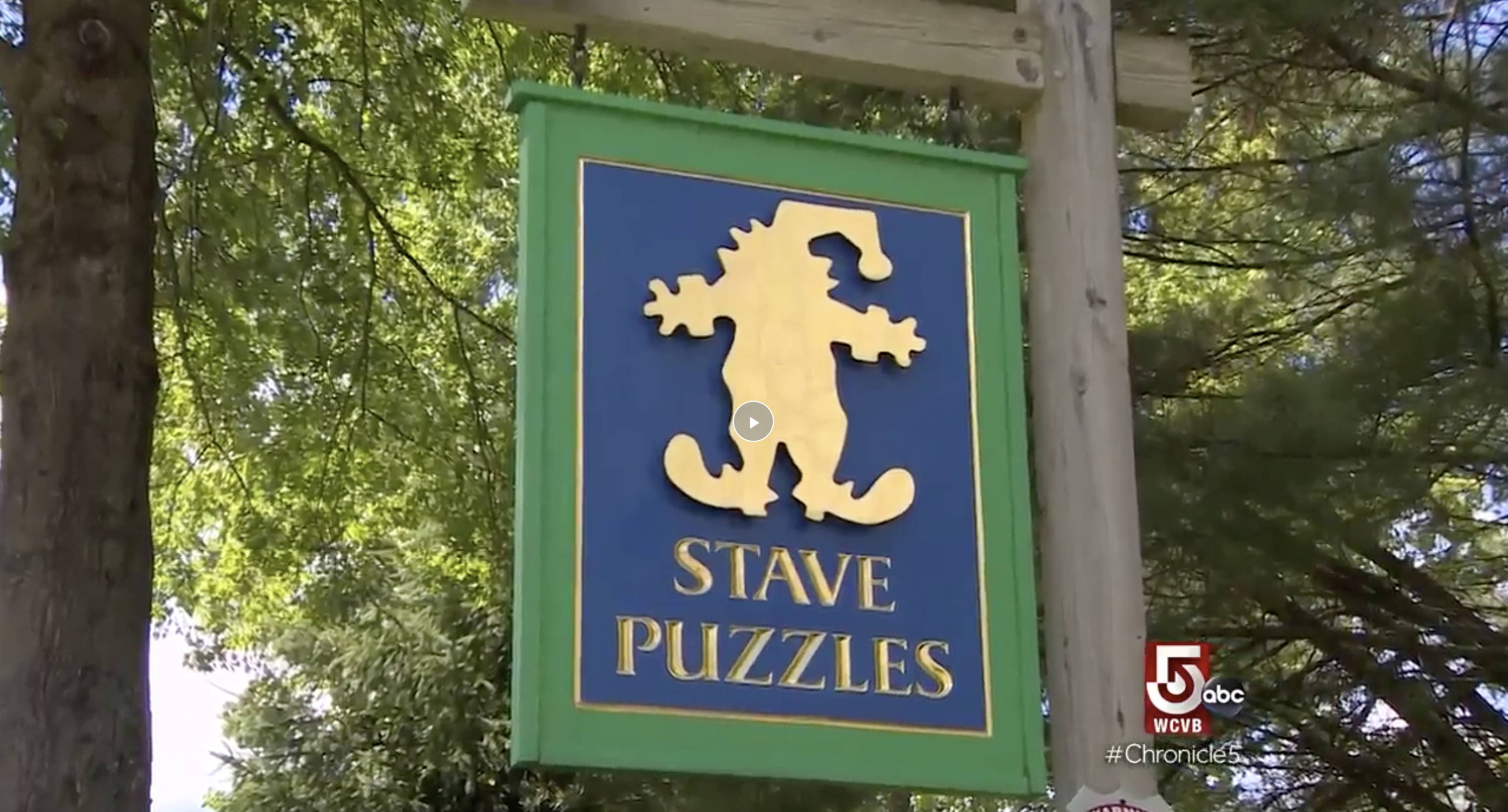 Chronicle | Jul 10, 2017
"At Stave Puzzles, they take great pride in their perplexing puzzles."
"We are so happy you exist! The world would not be the same without you. Stave makes the world a better place.
I'm sure everyone feels this way, so thank you."
– G.N., Morrisville, VT
2000 Guinness World Records names Stave Puzzles "Most Valuable Jigsaw Puzzle"
2003 Steve Richardson receives the first Spilsbury Award, at Association of Game and Puzzle Collector's 17th annual convention.
Steve Richardson invented Trick™, Teaser™, Troublemaker™ and Treat™ puzzle types, and is known as the Chief Tormentor.
Due to the highly custom nature of Stave's jigsaw puzzles, they are not found in any store. Customers purchase directly from Stave.

Request fun shaped pieces, called silhouettes, in Stave Traditionals. Names, Dates, shapes of animals, objects, or people in action.
Founded by Steve Richardson and Dave Tibbetts in 1974, they combined their names to create an iconic brand (Steve + Dave = Stave).

Over 45 years of
puzzling torment!
After one year, Dave sold his portion of the business to Steve for $1 and a saw. They remain good friends to this day.

No lasers, no templates, or fancy gadgets are used to create Stave's wooden puzzles – just an artisan and a saw.
Champ, Stave's infamous Trick™ puzzle, has 32 possible solutions but only one is correct.

A Stave puzzle will never come with a photo of the puzzle image, that would make your job too easy!
The signature logo piece is included in every Stave puzzle crafted.

Stave is currently using fourteen saws to craft its puzzles.

Jennifer Lennox and Paula Tardie purchased Stave Puzzles in 2016 and continue Steve's legacy of family fun with a little bit of torment.