Can you believe the sun is already leaving us earlier each day? Summer is going by much too fast for me. I feel like I've barely had a chance to get out and enjoy it. I know, I know. I have to make it a priority. And I will. Next year.
One thing I did get to enjoy this season was spending time with a few of my favorite puzzlers - and it wasn't during work hours! This was one of the highlights of my summer and I thoroughly enjoyed being able to relax and spend the time with them. An interesting question came up during our time together. It was about where we hold our puzzling weekends and "Why don't you come to our favorite place?".
As you probably know, you can work Stave puzzles at various boutique hotels and luxury inns around the country. These are amazing venues that always have a supply of our fabulous puzzles for their guests to work during their stay. You can't go wrong working a Stave while spending time at one of these amazing locations. You can puzzle a little then hike a little. Puzzle a little then hit the spa for a massage. Puzzle a little before dinner and puzzle a little after dinner. It's the perfect set-up!
We also host full-on puzzling events at several of these sites throughout the year. This is when a few of the Stave staff members will pack up even more puzzles, hop into the car or on a plane, and travel to one of these luxurious hotels or inns destinations. All of our puzzlers (that includes you!) are invited to join us for a few days of light puzzling competitions. You'll also have the opportunity to work as many Stave puzzles as you can while enjoying the company and camaraderie of fellow puzzlers, all while taking advantage of what each unique location has to offer.
So, back to that question about why we don't come to your favorite place. Hmm, why don't we? It might be because we don't know about it! Shown below are the locations where you'll find Stave puzzles to work on whenever you visit, but once a year you can also enjoy a weekend of fun puzzling competitions, prizes and revelry with other puzzlers and some of the Stave staff during a scheduled puzzling event. Check our website for the dates of these events. The list to the right are the places you can find Stave puzzles to work at any time. Come Join in The Fun! Jennifer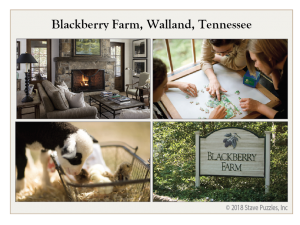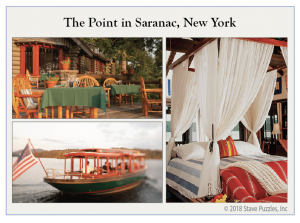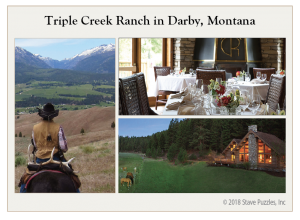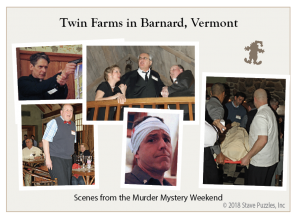 Stave Puzzles At These Locations Here are the locations where you can find Stave puzzles to work whenever you visit, but there won't be any Stave staff to harass or fellow puzzlers to commiserate with during your stay. Wickaninnish Inn, Tofino, British Columbia, Canada Poetry Inn, Napa Valley, California Stephanie Inn, Cannon Beach, Oregon The Swag, Waynesville, North Carolina Weekapaug Inn, Westerly, Rhode Island Ocean House, Watch Hill, Rhode Island The Pitcher Inn, Warren, Vermont Rabbit Hill Inn, Lower Waterford, Vermont Would you like us to schedule an organized weekend of puzzling fun at one of the inns listed above? Or, is there a place you know and love and would like Stave Puzzles to entertain you? Tell us just where you want us to go!! I love to travel and would delight in the opportunity to meet up with you. Let's make it happen! Email Jennifer@stave.com today with your wish list of locations where you'd like Stave to join you for a weekend of puzzling fun.