I'm sure you're familiar with the African proverb that begins, "It takes a village..." Well, the same applies here at Stave Puzzles. We aren't raising children, but it still takes each and every one of us to create the magic. From Susan, who procures the amazing artwork we use, to Channa out in Shipping and everyone in-between, we work as a team and rely heavily on each other. We recently welcomed some new faces to the shop and we would love it if you would take a few minutes to get to know them. I think you'll really like them. We sure do!
Meet Julie and Alexis, our newest puzzle crafters.
Julie
is a native of Connecticut and recently moved to the area. Her fun personality has been a great addition to the shop. In the time she has been here we've learned that Julie's favorite team is the Cleveland Indians and when she's not at work, she loves listening to music, cooking, and playing with her three kitties. If you follow us on
Facebook
or
Instagram
, you may have seen two of her cats, Nimbus and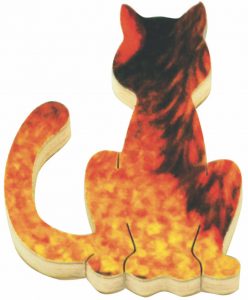 London, make their debut in a photo of them snuggled up on our new Stave blanket. While learning the ins, outs, and interlocks of crafting, you'll find Julie listening to "Morbid Podcast". Her crafting is coming along nicely so keep an eye out for her initials, JC, on the back of your Stave clown!
[caption id="attachment_2680" align="aligncenter" width="300"]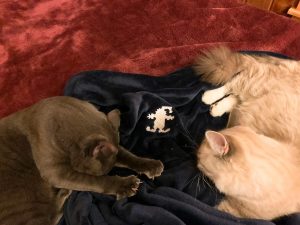 Nimbus and London[/caption]
Favorite Line From a Movie? Julie – "You have no power over me!" –Labyrinth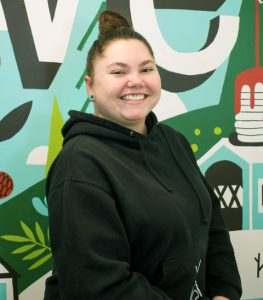 Alexis
has also come to us from out of state, and is loving Vermont! She grew up in Greenfield, IN and her first job was making pizzas at Hometown Classic Pizza. Have you heard of it? She highly recommends it if you happen to be passing through Greenfield. When asked what she likes most about working at Stave, Alexis says, "This is a job I look forward to. We all encourage each other to do our best and we get to have fun while we do it." Alexis can be found listening to "The Lord of the Rings: The Two Towers"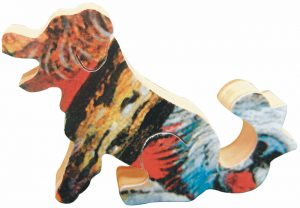 when she is cutting at the saw and when at home she enjoys spending some quality time with her pup, Mary Jane. Watch for her initials, AN, on a clown coming to you soon!
If You Were Stuck on an Island What Three Things Would You Bring? Alexis – Music, my dog, and my hammock.
And now, from our Customer Service/Marketing team, Brita and Cory!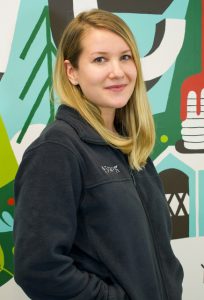 Brita
hails from the Big Apple and has been a great addition to the Marketing/ Customer Service team. Some of you may have chatted with her on the phone when calling in a recent order. In her free time, Brita enjoys reading, watching shows and hanging out with her dog nephew, Ernie. She also enjoys designing paper-cutting artwork. An interesting fact about Brita is that she took flying lessons in high school and soloed when she was only 17 - WOW! When asked what she's reading and listening to, Brita says the "Hamilton" soundtrack is playing in her car and she is reading Anxious People by Fredrik Backman. If you've read it, tell Brita how you liked it the next time you call.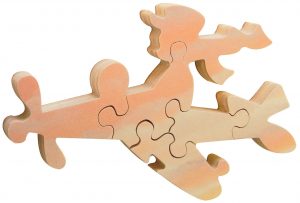 What's Your Favorite Food? Brita – Mac and Cheese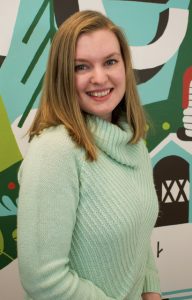 Boy, do we feel lucky to have
Cory
join Stave's Marketing/Customer Service team! She's been putting her photographic eye to work capturing the fun silhouettes and beautifully crafted edge designs coming out of the shop before the puzzles are taken apart. Cory is also diving into learning the ins and outs of our website and putting together emails so we can bring you fresh new art and content. If you're not on our email list, visit our site or give us a call so you can see some of the gorgeous content she has created. Cory is interested in reading, painting,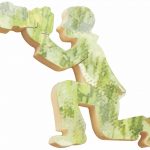 and photography and likes taking her dog, Oliver, for walks with her husband Ethan. While we were daydreaming about being able to travel again, Cory told us about her favorite vacations in Greece and El Salvador. Now we have the travel bug!
Are you an early bird or a night owl? Cory – Definitely a night owl!
[caption id="attachment_2681" align="alignnone" width="353"]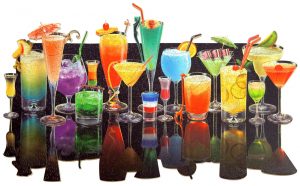 Cocktails, Royce B. McClure[/caption]
Cheers to New Friends,
Jennifer