I've just returned from our 13th annual puzzling weekend at Blackberry Farm and boy, did we have a blast!! If you haven't heard about Blackberry Farm, it's a beautiful luxury hotel situated on a 4200-acre estate in the Great Smoky Mountains. It's the perfect place to escape the modern day frenzy we sometimes find ourselves in. Blackberry Farm wants their guests to get in the "Blackberry state of mind"– to relax, slowdown, unplug and unwind. And believe me, you will! I think my blood pressure starts going down as soon as I see the first white fence on Blackberry's property. We had our largest group ever this year, with 36 guests. Many in the group are dedicated fans, some having come to every puzzling event at Blackberry Farm. We were joined by some new puzzlers, too. Once again, at the end of the weekend it felt like we'd known each other for years. One of the regulars likes to describe the event as "It's the family reunion with people you like." And that's the truth. We all look forward to seeing each other every February.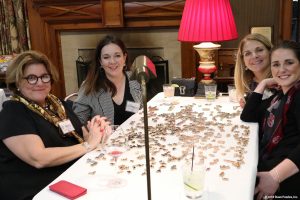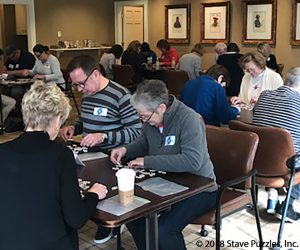 After thirteen years of puzzling weekends at Blackberry, it feels like Stave is part of their culture in a wacky off-beat way. If you think about it, puzzling does help you relax and unwind. BUT, the Stave event is jam-packed, crazy- fun, a tad wild, and involves LOTS of wine!! It's kind of hard to explain. The puzzle weekend gives you a chance to step out of your day-to-day life and into a puzzle-your-brains-out weekend with other people doing the same thing, but it also includes over-the- top wining and dining. Doesn't that sound like heaven?
In addition to puzzling at your leisure, the guests compete in a few fun, light-hearted competitions for great prizes. Give-aways like Stave wine glasses and tote bags, t-shirts and coffee mugs and, of course, we throw in some puzzle prizes too! Then on Saturday night we enjoy an amazing group dinner down in the wine cellar and when the last bite of dessert is consumed, we have a drawing for the grand prizes.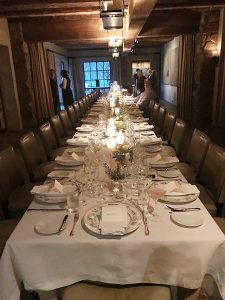 If you come next year, you might be the lucky winner of a 2-night stay at Blackberry Farm or a 250 piece puzzle of your choice. I think the attendees would say the prizes are just a nice bonus. What they're really coming for is the opportunity to spend the weekend with old friends and new, reconnecting and doing something they love with others just like them. Appreciatively yours, Jennifer
Get Your Party On!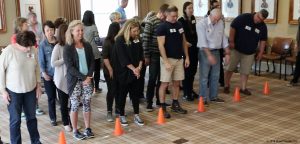 The Relay Race is one of our favorite games. There's great music during the race so there's lots of dancing. Some contestants might fare a little better if there were less dancing and more puzzling!!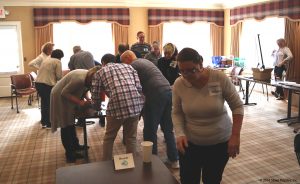 Tea for Two, one of our more intense games, really brings out the competitive edge in the players.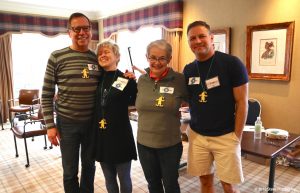 Congratulations to our Gold Medal winners-Team Cyclones! Great teamwork, Neal, Karen, Jean, and Evan!