The Man Behind the Boards Have you ever wondered who makes the Reversible Wooden Puzzle Boards and Traveling Puzzle Table? They are handcrafted exclusively for Stave by Don Carbino who lives right here in Vermont, just a few miles from Stave. We recently visited his workshop to see him working on the boards and a puzzle table in progress and to also get to know him a little better. Now it's your turn to meet him!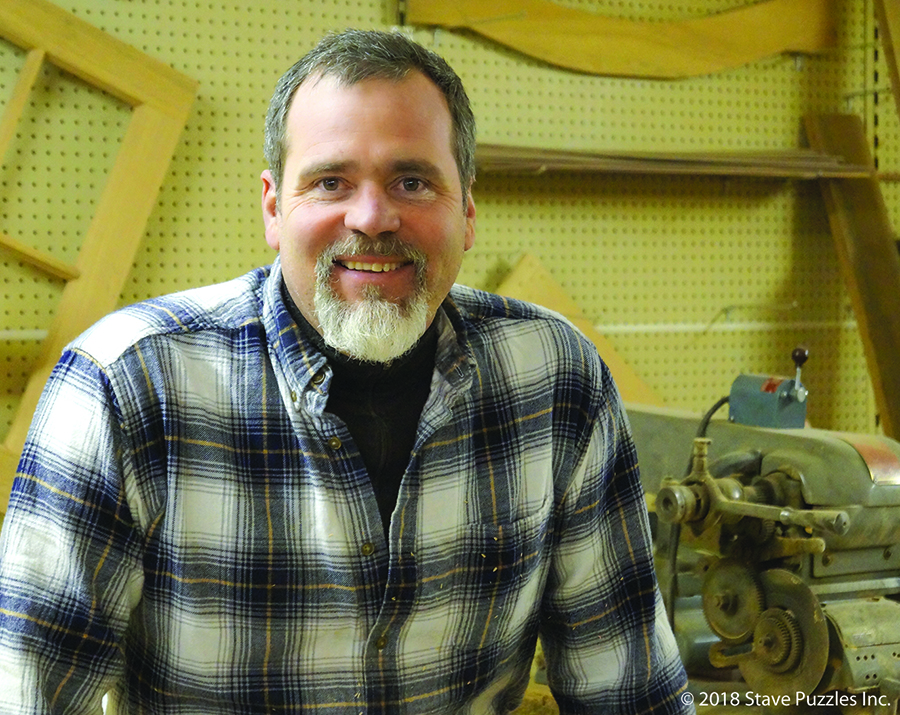 Meet fellow artisan, Don Carbino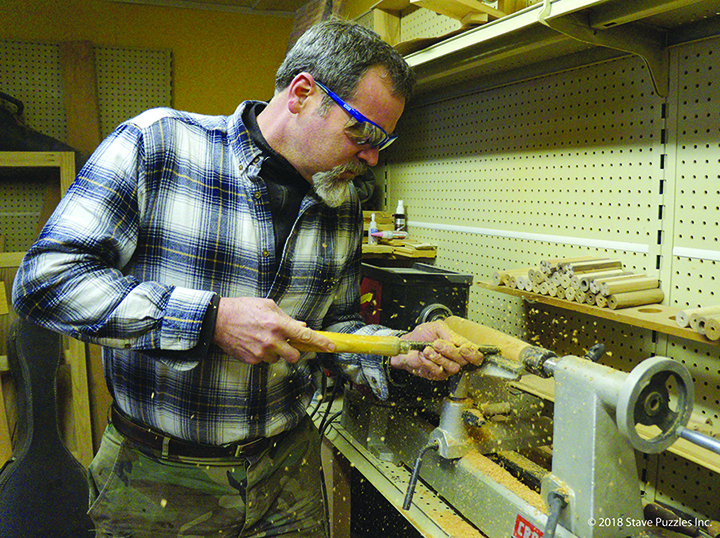 Don turns the table leg extensions on his lathe. His eye for precision is immaculate!
How did you get started in woodworking?
Don:
Over the past 30 years, I've worked with wood in one way or another. I've always had an interest in woodworking and design. I began in the craft by designing and creating the cabinetry for a pipe organ builder which led to hand carvings on panels of the organs. I own a sawmill and a timber frame business and, during the winter, I prefer to work on smaller projects inside my woodworking shop where it is warm.
Do you have a favorite wood type to work with?
Don:
I prefer to work with hardwoods including Maple, Cherry, Walnut, etc. I rarely work with exotic woods from the rainforest.
Where do you shop for supplies?
Don:
I like to use sustainably harvested wood from local sources. I have my own sawmill and dry kiln, so I saw my own cherry lumber for the tables and purchase other wood from a local supplier when needed.
What are some of the changes you've seen in woodworking, the tools, or the methods since you began?
Don:
I still use some of the very old techniques and tools that can't be improved upon. There are some tools and finishes that are better today than in the past, especially some of the glues and waterproof finishes. Years ago I did hand etching on organ stops and personalized gifts and wooden projects. Today I have a computerized laser engraver and lathe. These have forced me to learn new computer software such as Corel Draw and Adobe Illustrator. I also use AutoCAD now for modeling and 3-dimensional designs. This saves me from making a ton of errors and wasting time and wood.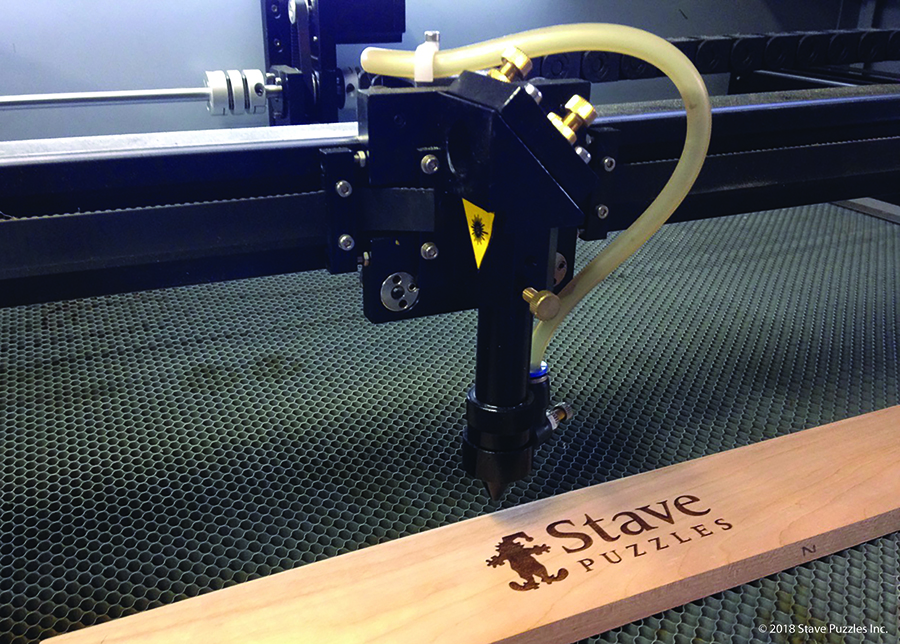 Don uses his laser engraver to place the Stave logo on your puzzle board.
Out of all the projects you've created so far, which has been your favorite?
Don:
I'd have to say my favorite project so far has been the Traveling Puzzle Table for Stave. I get excited coming up with a new design and developing new products like the puzzle table that is functional and is also a beautiful piece of handiwork. It took over a year of drafting, making prototypes and experimenting with different hardware and leg designs before we were satisfied with the finished version.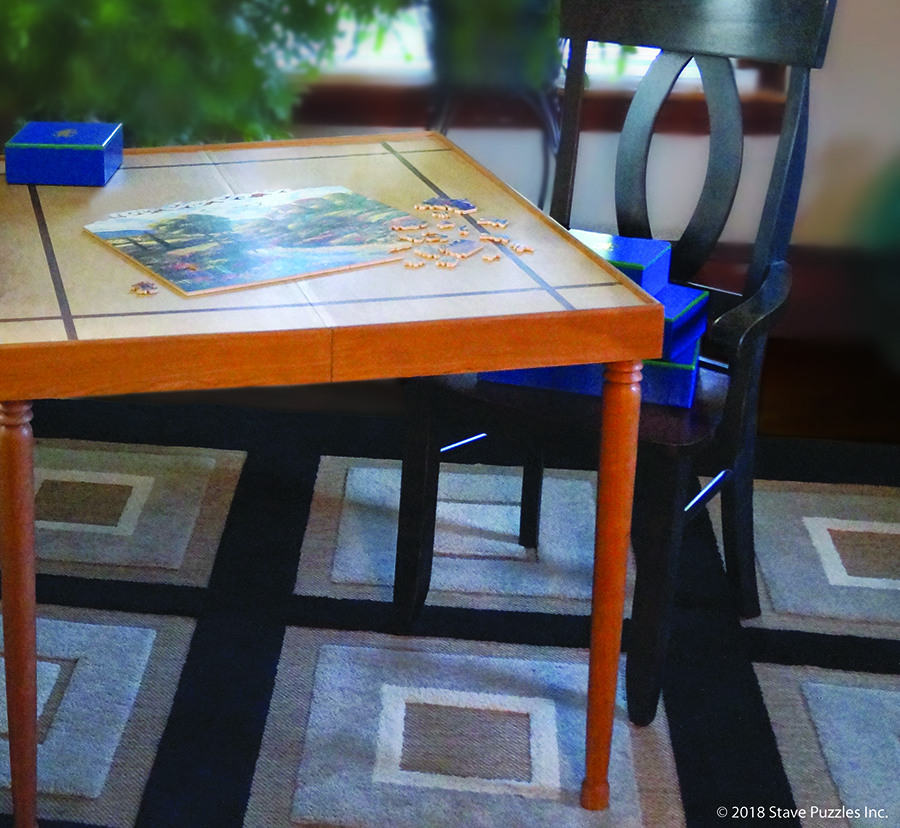 The Traveling Puzzle Table shown in the sitting height. It comes with leg extensions for those who enjoy puzzling while standing.
What else do you do besides make the reversible boards and puzzle tables for Stave?
Don:
I do timber frame construction and interior cabinet making. I also do hand engravings on stop knobs and hand carvings for pipe organ restoration. I also handcraft wooden products like cutting boards, serving trays, bar tap handles and keepsake boxes. Then I make mulch from the scrap wood at my sawmill.
Do you have any future aspirations for Stave items?
Don:
I've been experimenting with crafting a wooden pen and wooden mug for the Prize Point program.
How were you introduced to Stave?
Don:
My sister, Cindy, works for Stave and introduced me when they were looking for someone to craft custom wooden boxes. After that, Paula and I started to collaborate on the design of the Traveling Puzzle Table.
OK, Don - I'm out of questions. Is there anything you want to add?
Don:
Yes, visiting Stave Puzzles is like walking into the Twilight Zone. I admire the way everyone gets along and works together toward the same outcome as a team, achieving the same goal - creating high-quality puzzles in a functional, respectful atmosphere AND having fun at the same time! I don't see many companies like this. Where are their HAPPY pills? The puzzles are intricately cut and finely polished. I can tell a lot of time and care goes into crafting each one. I'm honored to have a partnership with Stave. If you'd like to see more of Don's work you can visit his Etsy shop: www.etsy.com/shop/DCWoodwright
More photos from our visit to Don's shop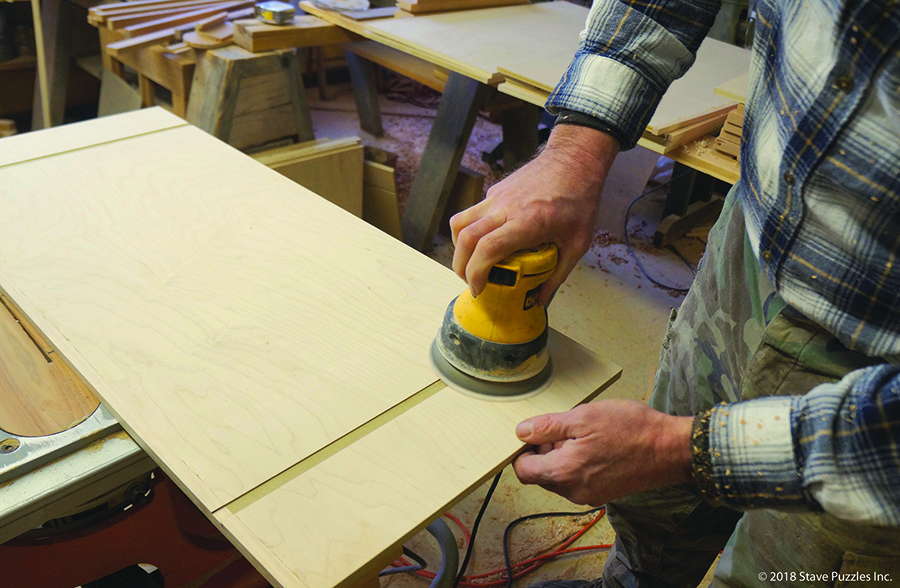 Don sands the surface of a section of the puzzle table top. Do you notice the grooves that have been routed in for the dark maple inlays?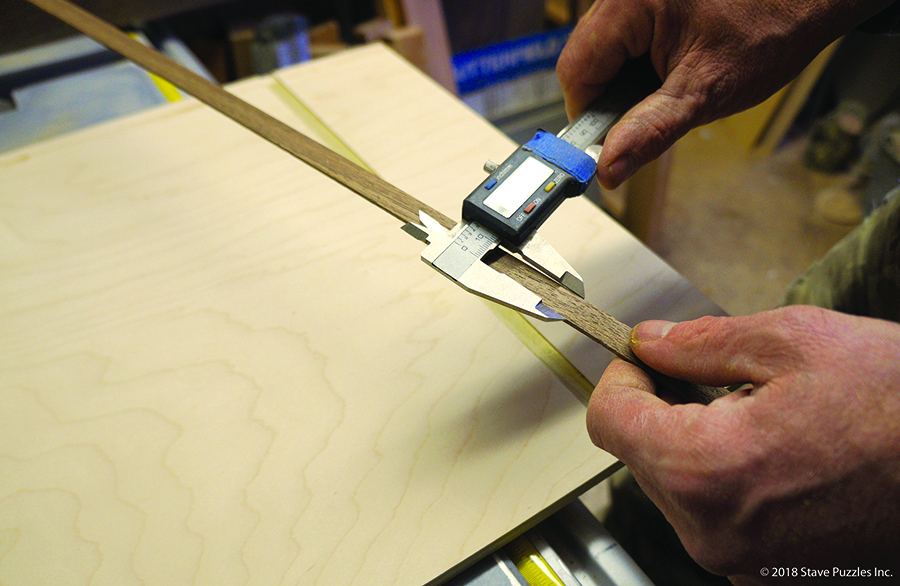 Here he measures the strip of maple wood with a digital caliper to ensure a perfect fit!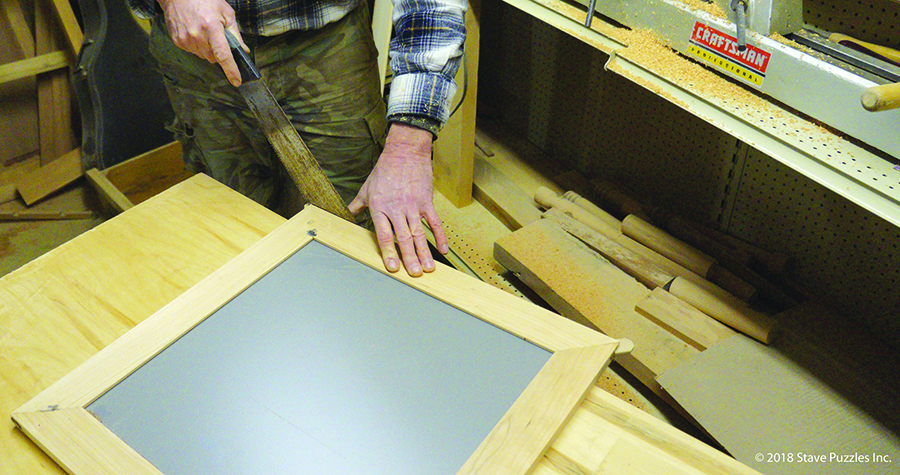 The corner joints of the board are trimmed with a handsaw (above). Then the edges are sanded until smooth and flawless (below).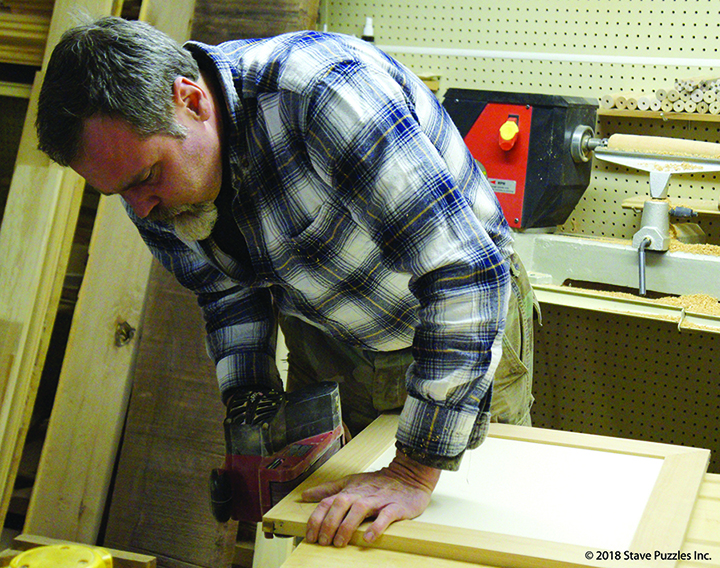 These are only a few steps of the crafting process. Some of the finishing touches include more sanding and polishing and don't
forget,
the custom engraving.
For more information on Stave Reversible Boards or
the Traveling Puzzle Table, visit www.StavePuzzles.com/boards-and-boxes/