If you're reading this that means we survived another fabulous holiday season! Someone, probably Paula, dragged herself out of her warm and cozy home to go to the shop to get the tubs of mail for the post office. That's no easy task when we're off the week between Christmas and New Year's. I guess that's the price Paula pays for living so close to the shop.
As I'm writing this it's looking to be yet another amazing year at Stave Puzzles. The gang out front is busily taking your phone calls and emails, the girls in the shop are making sawdust fly while cutting all those beautiful puzzles you ordered, and Channa and Lisa are up to their eyeballs in blue boxes and gift wrap. Thanks for keeping us busy this holiday season! It doesn't matter if you ordered a 50 piece Tidbit puzzle or a 1000 piece Traditional puzzle, we're just as thankful for one as we are the other.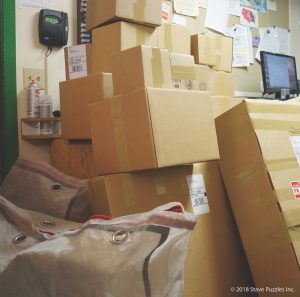 It's because of you we're doing what we love. Just the other night, as I was hopping off a saw after I finished cutting a puzzle, I commented that I love cutting. Christina, who was sitting at the saw next to me chimed in with "So do I!" We love puzzling you and we hope it shows in each and every puzzle piece you touch.
New Year, New Puzzles
The beginning of a new year spurs me to review the past year's new puz- zle designs so I can get a handle on what's needed for the coming year. I had hoped to have the Puzzle the United States series finished by now but it just didn't happen. Stave art- ist, Cheryl Johnson, was game to give it a go but I couldn't keep up! We have 19 of the 50 states finished and we're planning to get the rest of them completed in 2017. We made good progress on the state puzzles. In 2016 we debuted 5 new states and 2 more will be ready any day now. Maryland, Ohio, North Carolina, Georgia and Illinois were our 2016 debuts and those of you in Colorado and Michigan will be happy to know your states are on their way! Cheryl's currently working on Washington, Tennessee, Arizona and Indiana so keep an eye out for them.
If you're wondering where your state is in the list, shoot me an email and I'll let you know. The order of design is based loosely on the number of puzzlers we have in each state so if you want yours to be finished sooner rather than later, tell your neighbors to order a Stave Puzzle! We've got some new Tidbits in the works, from artist Susan Greenleaf. Meg McGuire is working on an addition to her collection of Teas- ers from the sea and of course we're always adding new Traditional prints to our offerings. Is there a particular artist you want to see? For all of you Trick puzzle lovers, you'll be excited to know that Steve is in the midst of a new Trick puzzle design. He's had it tested with very good results so now he's tweaking the design a bit and then we'll pull in an artist and get busy! You should be seeing this new Trick puzzle in early 2017. Who knows what else the new year will bring but it looks like it will be another fun-filled year with you, our friends! May the coming year bless you with laughter, love, and lots and lots of time for puzzling! Cheers! Jennifer