As puzzle crafters, there are times when we feel a special connection to the puzzles we are cutting. We may be drawn to the subject matter, the colors in the image, or maybe it's the custom silhouettes you've asked to have cut into it. No matter the reason, there are some we really feel a connection to. It's as if there's some sort of magic that slips from our fingertips, is absorbed into the puzzle, and then comes back to us. When this bit of awesomeness happens, we like to write a short note to you, the puzzler. Nothing grand, just a quick message to let you know how much we enjoyed working on your puzzle. And then - we're left wondering. Did you have as much fun putting the puzzle together as the crafter did cutting it? Did you notice how the flower blossom was used as a skirt for the ballerina silhouette? We want to know what you were thinking when you were searching for those elusive pieces! Did you notice anything in particular? Did the color-line cutting really slow you down? Were there so many whammies you thought you'd never get the edge completed? Whatever the feeling, share it with us!! We'd love for you take a few minutes to consider completing the 'fill in the blanks' note on the back and share your thoughts with us.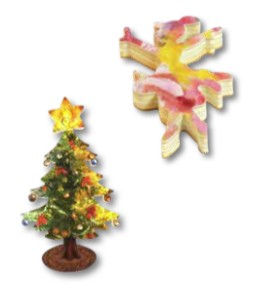 Tell us what you want more of, what you want less of, describe what you like and what really drives you crazy. Don't hold anything back! We're going to be cutting lots of puzzles in the next few months and we'd love to feel that great energy coming back to us. Fill in those blanks and help us keep our mo-jo going! Mail the form back to us at the address shown below, or write your own piece of fan mail. We hope to hear from you soon! Jennifer and the fabulous, if I do say so myself, puzzle crafters at Stave Puzzles. P.S. Feel free to contact me at
[email protected]
and I'll email you a form to fill out and send back.